Oriental Rug Cleaning
New Orleans Rug Cleaning is best found at Nola Rug Cleaning (504) 684-4394. Rug Owners have a best friend in Nola Carpet Cleaning. Oriental Rugs and Area Rugs are incredibly cleaned here by our Experts. We understands you cherish your New Orleans area rugs and thats why we use the most meticulous methods to make sure we clean your beautiful works of art the most efficient and safest way. Our Company of Experts knows the area rugs in your home represent a significant investment. Our New Orleans Rug Technicians wants to ensure that they stay clean and in the best possible condition for many years to come. Vacuuming alone does not clean your area rugs. Allergens, dust mites, sand, dirt and hair are all trapped in your area rug fibers.
Area Rug Fibers Need Regular Servicing
Regular area rug cleaning ensures that all of these particles are removed prolonging the life and beauty of your area rug to last generation after generation. We highly promote extracting most hand-woven area rugs at least every two years. It is also important to rotate it once a year so your area rug gets equal amount of traffic and light and wear evenly.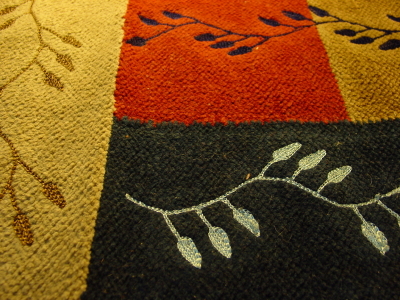 We have Affordable Prices
It doesn't matter if your area rugs are Orientals, Silks, Dhurries, Persian, Designer, Custom-Made or Braided. It doesn't matter if they are square, round or rectangular. With over 90 years of fabric care experience, you can entrust us to provide quality area rug cleaning at affordable prices.
 IMPORTANT: Over the past 30 years of rug cleaning service we have experienced some customers who have us pick up their rugs but then disappear. It is our policy to attempt up to 3 times to return rugs that have been cleaned, However if the customer refuses to answer their phone or assist us in the return of their merchandise Nola will store their rug for up to 6 months in our warehouse. If we cannot find the customer or contact them in returning their rug or merchandise after the 6 month period Nola will be forced to dispose of the rug in the manner we see proper. 
BELOW IS OUR RUG CLEANING WAREHOUSE AND OFFICE… YOU MAY FEEL FREE TO DROP OFF YOUR RUGS ANYTIME AT THIS FACILITY…
JUST COME TO 8021 PALM ST NEW ORLEANS LA 70125 FOR YOUR DELIVERY ….
Nola Carpet Cleaning is very pleased to offer Professional Area Rug Cleaning and Oriental Rug Cleaning Services to the Following Cities in the New Orleans Metro Area.
Ama LA 70031 | Arabi LA 70032 | Barataria LA 70036 | Belle Chasse LA 70037 | Braithwaite LA 70040 | Chalmette LA 70043, 70044 | Destrehan LA 70047 | Gretna LA 70053, 70054, 70056 | Harvey LA 70058, 70059 | Kenner LA 70062, 70063, 70064, 70065, 70097 | Lafitte LA 70067 | Luling LA 70070 | Marrero LA 70072, 70073 | Meraux LA 70075 | Metairie LA 70001, 70002, 70003, 70004, 70005, 70006, 70009, 70010, 70011, 70033, 70055, 70060 | New Orleans LA 70112, 70113, 70114, 70115, 70116, 70117, 70118, 70119, 70121, 70122, 70123, 70124, 70125, 70126, 70127, 70128, 70129, 70130, 70131, 70139, 70140, 70141, 70142, 70143, 70145, 70146, 70148, 70149, 70150, 70151, 70152, 70153, 70154, 70156, 70157, 70158, 70159, 70160, 70161, 70162, 70163, 70164, 70165, 70166, 70167, 70170, 70172, 70174, 70175, 70176, 70177, 70178, 70179, 70181, 70182, 70183, 70184, 70185, 70186, 70187, 70189, 70190, 70195 | New Sarpy LA 70078 | Saint Bernard LA 70085 | Saint Rose LA 70087 | Violet LA 70092 | Westwego LA 70094, 70096